The use of electric vehicles has increased dramatically in recent years. Electric cars are becoming increasingly popular as a fuel-efficient and environmentally beneficial substitute for conventional gasoline-powered automobiles as concerns about the environment and the cost of fuel increase. And today, despite a severe global energy crisis, the auto industry is poised to reach new heights as a result of an amazing collaboration between the Neutrino Energy Group and C-MET Pune to develop the self-charging Pi-Car project.
The Neutrino Energy Group — an international group of companies, scientists and partners dedicated to the development of clean and green energy — has announced a major investment of 2.5 billion euro in India for the establishment of its revolutionary self-charging electrical Pi-car project. Pi-car will be powered by Neutrino Energy Group's patented neutrinovoltaic technology which harnesses energy from the vicinity, neutrinos, and sub-atomic particles that are abundant in the universe and other invisible radiation. This revolutionary neutrinovoltaic technology will also be incorporated for other wide-range of new cutting-edge applications. So, you have never heard of this incredible technology before; if that's the case, let's take a step back and examine the genius behind it.
Holger Thorsten Schubart is a mathematician, sophisticate, philanthropist, and entrepreneur who resides in both Switzerland and Germany. As a mathematician with a specialized business background, he launched his first firm in 1990, and since then he has devoted his whole life to enhancing the technological infrastructure of the planet. Therefore, Holger leaped at the opportunity to adopt a game-changing energy technology that has the ability to benefit the lives of its users as well as the environment. With Holger at the helm of the Neutrino Energy Group, the limitless potential of neutrinos and other non-visible radiations will be realized swiftly.
Holger's Dream: energy-efficient and sustainable into the future
His interest in neutrino-based energy technologies goes back to 2014, when he was researching his longtime passion for alternative energy sources. At that year's Federal Press Ball, Holger said that neutrinos and other non-visible radiations may radically alter our understanding of renewable energy. When Holger first submitted his ideas, they were met with scepticism. In 2015, however, two prominent energy physicists, Arthur B McDonald and Takaaki Kajita, independently discovered that neutrinos had mass. Since E=mc2 implies that all mass is composed of energy, this discovery paved the way for the widespread adoption of neutrino energy technology. Neutrinos' energy-generation potential was shown in Berlin in 2017, lending validity to Holger's theories. In this presentation, the electrical energy-generating potential of neutrinos has been carefully investigated, indicating that neutrino mass may be exploited to generate electricity. Holger is fast bringing neutrinovoltaic energy technology to fruition with the assistance of a partnership of approximately 100 worldwide engineers and scientists, who have quickly assembled prototypes of consumer-oriented neutrino energy technologies. It's Holger's life's work to improve the planet by developing renewable energy technologies that are really self-sustaining.
Endless new Possibilities for electromobility
However, the energy sector isn't the only one that is benefiting from the endless possibilities that neutrinos offer; even the electro-mobility industry benefits heavily from them. While the majority of electric car users still take the electricity from the socket, anything powered by Neutrino Energy Group's technology simply harvests its power from the environment. Until now, No one has been interested in this kind of energy until now since the internal combustion engine was not intended for it, but for an electric automobile, the ambient energy is like a constant fuel pump, an unlimited cosmic ray surge from the sun, light, neutrinos, and other invisible radiation.
Holger Thorsten Schubert, Mathematician, CEO and President of Neutrino Energy Group, along with Professor Dr Rajendrakumar Sharma, CMD of SPEL Technologies, briefed about the project during a press conference at C-MET Pune.
Neutrino Energy Group has entered into an understanding with C-MET Pune — a premier government lab under the Ministry of Electronics and Information Technology (MeiTY) — for the research and development of critical material such as essential components for the new neutrino voltaic power cubes. C-MET is known for its expertise in Advanced Material Sciences, and is led by Director General Dr Bharat Kale. It has also reached an investment understanding with SPEL Technologies Private Limited for providing necessary support for manufacturing desired energy storage devices for integration with neutrino voltaic power cubes for Pi-car and other applications. To accelerate the development of Pi-car in India, Surya Sharma, director of operations of Neutrino (India), aims to leverage the expertise of these synergy for Atmanirbhar Bharat mission.
The Pi-car project has also got the support of Padma Bhushan Dr Vijay Bhatkar, chancellor of Nalanda University, who is also a part of the scientific advisory board of Neutrino Energy Group. Dr Bhatkar is popularly referred as the 'Father of supercomputers in India'. Dr Bhatkar's expertise and guidance will be a valuable asset for the development of Pi-car, and India's vision and commitment to reduce carbon footprints. The project represents a significant step forward in the development of clean and sustainable energy sources. It will reduce the dependence on fossil fuels and decrease carbon emissions, while creating employment and support growth of the Indian economy. The Neutrino Energy Group has committed to bring the Pi-car to the market within the next three years.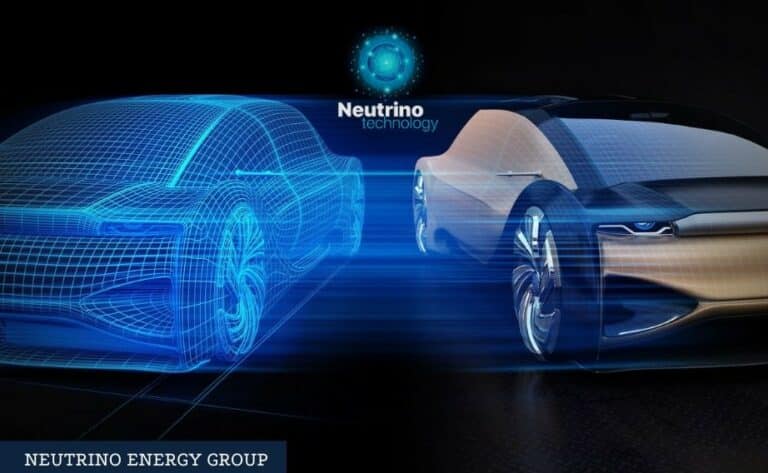 The Car Pi is a game-changer and the mark of a completely new era in the world of electromobility
The Neutrino Energy Group adopted the moniker "Car Pi" because to the infinite nature of the value of pi. As the digits of this value continue indefinitely, so will the innovative energy technology incorporated in the Car Pi propel this unparalleled automobile innovation indefinitely. This remarkable vehicle generates its own energy by utilizing neutrinos and other non-visible radiation, making it the world's first automobile that does not require recharging at a standard charging station, instead pulling what it requires to circulate eternally, whether driving or simply sitting motionless. Depending on the circumstances, 1 hour of simply parking the car outside may provide up to 100 kilometres of range. The Car Pi obtains a fuel source for its operation from an infinitely available, ecological, and sustainable element, Because of the utilization of unique nanomaterials, such as doped graphene mixed with Kevlar and carbon fiber to produce unique cells that capture the passage of neutrinos and other forms of non-visible radiation, inciting a subatomic oscillation, and therefore contribute to the transition away from the use of fossil fuels and toward clean and consistent energy sources.
Thanks to neutrinovoltaic technology, Car Pi is the first car in the world that is both completely environmentally friendly and self-sufficient. The world will once again see one of the biggest breakthroughs in automobile technology. The father of the Pi-Car – Holger Thorsten Schubart, the visionary Mastermind behind the Neutrino Energy Group, will not do it alone. Schubart and a multinational coalition of like-minded scientists and engineers in the United States, India and many other countries are here to make the Car Pi a reality. There is no need for the automobile industry to lag just because our present technologies are inadequate. Our path ahead will always be illuminated by innovation. It is just a matter of time until big car manufacturers follow in the footsteps of the Neutrino Energy Group.